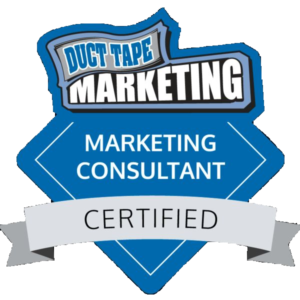 Advantage Marketing's managing director, Loraine Kasprzak, has successfully completed the rigorous initial Duct Tape Marketing training and has continuous access to training throughout the year ensuring she is the best at the marketing game.
With this accomplishment, as a Certified Duct Tape Marketing Consultant Loraine will provide her clients with:
Predictable results with the Duct Tape Marketing System
Comprehensive marketing strategy development
Implementation on the most impactful marketing tactics available
The latest information in relation to current marketing trends
John Jantsch, the author of Duct Tape Marketing and founder of the Duct Tape Marketing organization, developed the certified level for the company's Consultant Network to acknowledge those consultants that placed a heavy emphasis on the success factors of the Duct Tape Marketing System.
"Duct Tape Marketing Consultants receive rigorous training as part of the network, but Certified Consultants have also demonstrated a mastery of the principles contained in the Duct Tape Marketing. I am proud to announce that Loraine has achieved this level of success," said John Jantsch, founder of the Duct Tape Marketing Consultant Network.
Loraine stated, "I'm proud to be recognized in this group of professionals. As a Certified Consultant I will help my clients connect with customers and grow their sales by bringing them expertise and best practices."
The Duct Tape Marketing Consultant Network includes 100+ certified marketing consultants located around the world all implementing the Duct Tape Marketing System – a program developed to finally serve small business owners in a strategic and effective way. The professionals attracted to this idea share the same point of view about serving small business, and that spills over into to how they show up and participate in the network and succeed for their clients.
Network members share without reservation, inspire by doing, lend a hand or a word of encouragement, teach, collaborate, and contribute every bit as much as they take away in benefit. It's that sense of community that makes the Duct Tape Marketing Consultant Network such a strong resource for marketing professionals across the globe.
If you're dissatisfied and frustrated with your current marketing and sales efforts, reach out to Loraine to find out how the Duct Tape Marketing System can help. You can also learn more about Advantage Marketing.