In our work as Fractional CMOs and marketing consultants, we have the opportunity to assist many tech, IT and professional services firms in the New Jersey area, throughout the US, and internationally. These case studies highlight the work we've done helping clients with their marketing strategy, branding, and more.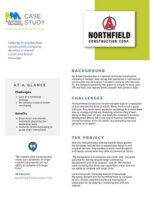 Helping an established construction company develop a shared vision and brand message
The Northfield Construction brand had been built on a reputation of trust and positive word of mouth. With the company's next generation of leadership looking towards future growth, the principals realized they needed to reach more prospects and clearly convey what they offered to commercial clients. Advantage Marketing worked with the leadership team to crystallize NFCC's mission and brand. The work started with…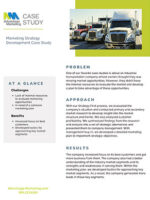 Strategy development project uncovers marketing opportunities
Owners of an industrial transportation company thought they were missing market opportunities. However, they didn't have the internal resources to evaluate the market and develop a plan to take advantage of these opportunities. Advantage Marketing conducted a Strategy First engagement and…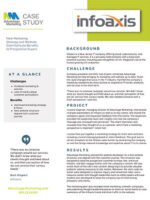 New marketing strategy and website communicate benefits to prospective buyers
Infoaxis company president contacted Advantage Marketing for help bringing its marketing and website up to date. Given the rapid changes in the IT services industry, he felt the company's marketing needed to be more tactical to respond to IT trends. "There was no cohesive campaign around our services…"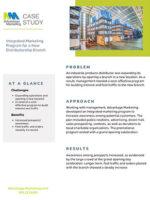 Integrated marketing program for a new distributorship branch
An industrial products distributor was opening a branch in a new location. Management needed a cost-effective program for building interest and foot traffic to the new branch. Advantage Marketing developed an integrated marketing program to increase awareness among potential customers. The plan included…
Ready for a marketing system that grows revenues and profits?
Get a free initial consultation.